0003 | Cancer Ward – Alexandr Solzhenitsyn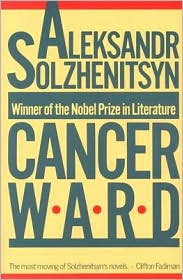 REVIEW
I started this wondering where the novel was going to come from. Then it crept up and hit me with such force that I was left reeling for the rest of the book. Each chapter is a gem worthy of meditation in itself and Solzhenitsyn strings these gems into a stunning creation. The characters are exquisitely sculptured; there's so much of the author in Kostoglotov that it makes for a fascinating read just following this one man through the book and wondering how much of the character is based on fact and how much imaginary. A truly great book…
It was made all the more poignant by the fact that I have one close friend and very close relative presently fighting cancer. Hmmm…
OPENING LINE:
On top of everything, the cancer wing was Number 13.
QUOTES:
"What can divide human beings on earth once they are all faced with death?"
"You can't know everything in the world. Whatever happens, you'll die a fool."
"We are so attached to the earth, and yet we are incapable of holding on to it.
WORDS:
anamnesis: medical history – the case history of a medical patient as recalled by the patient
CLOSING LINE:
An evil man threw tobacco in the Macaque Rhesus's eyes. Just like that…
RATING:
terrible > poor > mediocre > okay > good > very good > excellent > superb
FINISHED:
2007 – Jan